Fetal Doppler Heartbeat Detector
 Check Up On Your Baby At Any Time!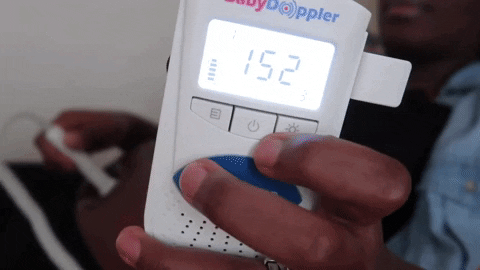 Connect and Bond with your Baby, Monitor your baby's heartbeat from the comfort of your home! No need to wait for your next Doctor's visit, experience the joy of listening to your baby's heartbeat at any time.
The convenience of being able to listen and monitor your baby at home is what makes this babies-mall device such an excellent buy for expecting mothers to be. Waiting for that next doctor visit can feel like the longest time ever. 
As a mother, you want to have that peace of mind and hear your baby's heartbeat. Hearing a healthy heartbeat provides feelings of security, peace, and excitement. 
With this detector, you can check in on your baby in between doctor visits. Keeping calm, relaxed and stress-free is a must during your pregnancy. The comfort to check your baby anytime you want can greatly reduce anxiety during pregnancy most especially for those mothers who are experiencing a difficult pregnancy.  
Using the doppler in the privacy of your own home is convenient and beneficial as you get to monitor your baby on your own terms. You can also hear those first distinctive movements and kicks as your baby grows. Added to that, a fetal doppler can also pick up any other sound waves inside your body, meaning you or your family member can also monitor the heartbeat if needed. 
Safe And Non Invasive

 

- This device is Medical grade and FDA approved.
Peace Of Mind During Pregnancy

 

- Listen to your little one's heartbeat at any time.
Maximum Accuracy

 

- Detect fetal heart sounds as early as 9-14 weeks of pregnancy.
Stress-Free Traveling

 

- Works on batteries and can easily fit into any standard women's bag.
Easy To Use

 

- Start listening to your baby's heartbeat in just 3 simple steps.
Share The Journey

 

- Equipped with an audio output to record these beautiful moments and share with family & friends.
Clear And Crisp Sound

 

- Comes with a built-in high-quality speaker.
 The joy of hearing your baby's heartbeat and sharing that joy with your family creates an everlasting bond too.
Let's share this joyful time with the entire family, hearing your little one's heartbeat is the most sacred connection. 
30 DAY RISK-FREE GUARANTEE
We have an iron-clad risk-free guarantee.
 If you aren't satisfied with your products for any reason, you have up to 30 days after receiving your product to contact us and ask for a full refund.
This Fetal Doppler is all about hearing, and connecting to your baby. with that said...

This product is not intended to diagnose any medical condition and it should not be used to come to a conclusion based on its findings. In any way is a replacement for a medical doctor. Please consult your medical practitioner on the use.

Furthermore...

Please note that if you are trying to get the reading of the fetal heart rate in the early stages of the pregnancy, the heartbeat may not be strong enough to hear or the baby could be in a position that doesn't allow the Fetal Doppler scanner to obtain a clear reading of the heart rate. In this case, it might be wise to try again in a few minutes or the following day. Most of the good readings are between the week 9th to 14th.

Sometimes the sound waves will echo causing it to sound like there are two babies in the womb, but each baby will have different heart rates, so don't panic, unless of course, you are expecting twins.
WHEN CAN I START LISTENING TO MY BABY'S HEARTBEAT?
During week 6 of pregnancy the baby's heart and circulatory system will start forming. The earlier along you are, the harder it will be to hear the baby's heartbeat with a Doppler. Most women report hearing the heartbeat between weeks 9 and 14, depending on the position of the baby in the womb.

It's important to note that every woman's body is different and babies shift frequently during pregnancy, these factors may affect when you hear the heartbeat.

Please note: Patience is very important when it comes to using a heartbeat monitor, if results cannot be found within several minutes of trying, please try again a little bit later.
WHAT DO I NEED TO GET STARTED? 
Plug the probe into the bottom of the device. Insert AA batteries into the back compartment of the Fetal Doppler. Press the middle power button to turn on the LCD Display. Make sure you have your Ultrasound Gel nearby and some tissue for cleanup later.
WHAT STEPS SHOULD I TAKE ONCE I HAVE MY DEVICE IN HAND? 

Start by lying down or sitting in a comfortable position and pushing your uterus as far forward as you can. Having a full bladder can help.
Use Lots of Gel
A sample size of lubrication gel comes with your Doppler. You can always purchase more.  Gel is important to use with the Doppler because it allows for a clear sound. Without gel, the Doppler will not work, the waves travel through air and the interference will cause a static. The gel is used to minimize air between the doppler's probe and skin to provide the best, most clear sound.
If your gel has bubbles in it, you might still hear static. 
Don't rub into the belly like a moisturizer. Instead apply two dollops directly onto the belly and use the probe to spread it.
Position the Probe
The further along you are in your pregnancy, the higher up your baby will be positioned. If you're earlier along, start by placing the probe below your belly button and closer to your pubic bone. 
The pubic bone is a large hard bone right in front of your bladder in the middle of your abdomen. Finding a baby's heartbeat on a doppler requires a rocking motion of the probe. The best way to find the heartbeat is to 
start low and go slow.
 Don't press down on the probe, 
gently angle it at 45*
 produces the best result.
Drag along your abdomen until you hear a heartbeat. It's important to move slowly and in small movements, otherwise you can miss the heartbeat. Remember the way a doppler works is it amplifies sound when it's nearby and minimizes it as you move further away. 
Gently rock the probe from side to side making sure to not miss any area of the bottom part of your abdomen until you find the heartbeat. You will clearly see the heart rate in beats per minute (BPM) on the screen.
I CAN'T SEEM TO FIND THE HEARTBEAT, OR HEARTBEAT IS FAINT. WHY IS THAT?
Please note that if you are trying to get the reading of the fetal heart rate in the early stages of the pregnancy, the heartbeat may not be strong enough to hear or the baby may be in a position that doesn't allow the fetal doppler to obtain a clear reading of the heart rate. In this case, it might be wise to try again in a few minutes or the following day.
SPECIFICATION
Anti-electroshock Type: Internally powered equipment
Anti-electroshock Degree: Type B applied part
LCD Display: 45 mm × 25 mm
FHR Measuring Range: 50 BPM ~ 240 BPM (BPM: beat per minute)
Resolution: 1 BPM
Accuracy: ± 2 BPM
Power Consumption: < 0.8 W
Voltage: DC 3.0 V
Power Supply: TWO 1.5V(AA size)
Suitable Using Range: Suitable for use after the 12th week of pregnancy
Auto Shut-OFF: After 1 minute no signal, power off automatically
FEATURE
Battery status indicator
Low power inspection of the battery
Built-in speaker
Output for headphones
The probe can be changeable
Probe inspection
Backlight
Auto shut off
Support 2MHz,3MHz,4MHz,5MHz,8MHz probes
Two pieces of AA 1.5V alkaline batteries
USAGE
PACKAGE INCLUDES